Audio
Ashtotaram [28-54] – Audio
LYRICS
Om Shri Sai Ratnaakara-Vamshodbhavaaya Namah The One who is born in the dynasty of Ratnaakaras (gems of men).
Om Shri Sai Shirdi-Sai-Abheda-Shaktyavataaraaya Namah Whose Glory is not different from the Shirdi Avataara.
Om Shri Sai Shankaraaya Namah Who is Shiva.
Om Shri Sai Shirdi Sai-Moortaye Namah Who is the Incarnation of Shirdi Sai.
Om Shri Sai Dwaarakaamaayee-Vaasine Namah Who is the resident of Dwaarakaamaayee.
Om Shri Sai Chitraavatee-Tata-Puttaparthi-Vihaarine Namah Who sports (His Leelas) in Puttaparthi on the banks of the Chitraavatee.
Om Shri Sai Shakti-Pradaaya Namah Who bestows strength.
Om Shri Sai Sharanagata-Traanaaya Namah Who saves him that surrenders.
Om Shri Sai Aanandaaya Namah Who is bliss.
Om Shri Sai Aananda-Daaya Namah Who grants Bliss.
Om Shri Sai aarta-Traana-Paraayanaaya Namah Who is devoted solely in saving the afflicted (those in distress).
Om Shri Sai anaatha-Naathaaya Namah Who is the guardian or Lord of the destitute.
Om Shri Sai Asahaaya-sahaayaaya Namah Who is the helper of the helpless.
Om Shri Sai Loka-Baandhavaaya Namah Who is the kith and kin of the whole world.
Om Shri Sai Lokarakshaa-Paraayanaaya Namah Who is solely devoted in protecting the people.
Om Shri Sai Loka-Naathaaya Namah Lord of all the world.
Om Shri Sai Deenajana-Poshanaaya Namah Who nourishes and sustains the poor(those who are suffering and are in a miserable condition)
Om Shri Sai Moorti-Traya-Swaroopaaya Namah Who is the Incarnation of the Holy Trinity (Brahmaa, Vishnu and Maheshwara)
Om Shri Sai Mukti-Pradaaya Namah Who is the giver of Liberation.
Om Shri Sai Kalusha-Vidooraaya Namah Who removes all wickedness.
Om Shri Sai Karunaakaraaya Namah Who is compassionate.
Om Shri Sai Sarva-Aadhaaraaya Namah Who is the support of all.
Om Shri Sai Sarva-Hridayavaasine Namah Who resides in the heart of everyone.
Om Shri Sai Punya-phala-pradaaya Namah Who is the giver of the fruits of merit.
Om Shri Sai Sarva-Paapa-Kshya-Karaaya Namah Who is the destroyer of all sins.
Om Shri Sai Sarva-roga-Nirvaarine Namah Who removes all diseases.
Om Shri Sai Sarva-Baadhaa-Haraaya Namah Who takes away all the suffering.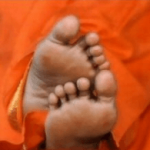 Video
Ashtotaram [28-54] – Video
Activity
SRI SATHYA SAI ASHTOTTARA NAMAVALI :- CLASS ACTIVITY (1 – 54 NAMAVALIS)
Namavalis – Class Activity
Re-arrange Ashtothram
Fill in the blanks
Given below are four namavalis from Sri Sathya Sai Ashtotthara Shatha Namavali:
Om Shri Moorti Traya Swaroopaaya Namaha
Om Shri Sai Shirdi Sai Moortaye Namaha
Om Shri Sai Maheshwara Swaroopaaya Namaha
Om Shri Sai Chitravati Tata Puttaparthi Viharine Namaha
Also given below are 4 picture boxes named A,B,C & D – each box containing a picture representing / symbolizing each of the above namavali
You are required place the number of the most appropriate namavali in the space below each of the four picture boxes.
Re-arrange Ashtothram
Gurus can jumble few 'Naamavalis' from 'Ashtothram' and students should rearrange the 'Naamavalis'
Example: parayanaaya om sai traana shri namah aarta
Answer: Om Shri Sai Aarta-Traana-Paraayanaaya Namah
Fill in the blanks
Gurus to prepare fill in the blanks for Ashtothram
Example:
Question 1:
Om Shri Sai Shakti _______________________ Namah
Answer :Om Sri Sai Shakti-Pradaaya Namah
Question 2:
Om Shri Sai Ananda ________________ Namah
Answer : Om Sri Sai Aananda-Daaya-Namah
Further Reading
Ashtotaram [28-54] – Further Reading
PART A
PART B