Audio
Gopala Gopala Bhajan
LYRICS
Gopala Gopala Devaki Nandana Gopala
Gopala Gopala Vasudeva Nandana Gopala
Devaki Nandana Gopala
MEANING
This is a bhajan in praise of Lord Krishna. He is the protector of all the beings. He is the son of Devaki and Vasudeva.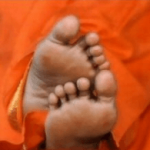 Explanation
Gopala Gopala – Explanation
Video
Gopala Gopala – Video
Activity
Gopala Gopala – Activity
Group Game : Say Gopala
Value Inculcated: 
Mathematical skills, alertness
Game: 
Children sit in a circle and count 1,2,3,4; every time 5 or its multiples come they should say, "GOPALA". They can count up to 50 or 100. The child who calls out wrongly is declared out.
Extra Shots:
A variation is to say "GOPALA" for 6, 16, 26, 36 .. etc and for multiples of 6 also.
Further Reading
Gopala Gopala – Further Reading