Audio
Shaila Girishwara Bhajan
LYRICS
Shaila Girishwara Uma Maheshwara
Kashi Vishweshwara SadaShiva
SadaShiva SadaShiva SadaShiva Shambho SadaShiva
MEANING
This is a bhajan in praise of Lord Shiva. He is the Lord of Shailagiri, Consort of Uma (Parvati), Lord of the Vishwa (universe) and the form of the Lord installed in the Kashi Temple. He is eternally auspicious and spreads joy and auspiciousness.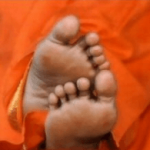 Explanation
Shaila Girishwara – Explanation
Video
Shaila Girishwara – Video
Activity
Shaila Girishwara – Activity
Activity : Joining Dots (Shiva Lingam Rangoli)
Materials Required : A4 sheet, pencil and crayons/colour pencils.
Preparatory Efforts: Gurus can draw the dots on the A4 sheet and take multiple copies. Also be ready with one sample Rangoli.
Further Reading
Shaila Girishwara – Further Reading