Audio
Twameva Maataa Sloka
LYRICS
Twameva Maataa Cha Pitaa Twameva
Twameva Bandhuscha Sakhaa Twameva
Twameva Vidya Dravinam Twameva
Twameva Sarvam Mama Deva Deva
MEANING
Lord! You are my mother, You are my father, You are my relative or Kinsmen, You are my friend, You are my knowledge, You are my wealth (of strength, valour, and power) You are my all, my God of Gods.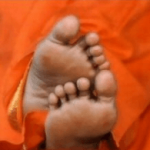 Explanation
Twameva Maataa Sloka – Explanation
Video
Twameva Maataa Sloka – Video
Activity
Twameva Maataa Sloka – Activity
Activity sheets
The Balvikas Children can be shown Videos depicting love of a Mother/father towards their children.
Gurus could also show videos of animals showing love towards their young ones, videos of animals that show love/care to smaller animals belonging to different species. Example – An elephant taking care of a dog, monkey taking care of a bear cub etc.
Suggested Questions for Discussions
Did you enjoy the Videos? Which one did you like the best? Why?
Do you think we get love only at home? Who gives us love in School? Who takes care of us in school?
Do you love playing? Who makes the games interesting for us?
Do you have friends? Do you enjoy being with them? Why?
Are you scared of crossing the road? Have you ever crossed the road alone? In such a situation, did the person standing next to you help you cross? Have you helped anyone cross the road?
Is it possible for us to always stay with our parents, brothers, friends?
Have you shown love to someone you do not know? How? How did they feel? Did you feel happy?
Inference
Gurus should explain to the children that the love they get from their parents, teachers, friends, siblings, relatives, pet animals etc are God's Love which is channelled through each of them. So also the love that we give others is God's love channelled through us. God loves all of us equally and unconditionally and showers His love on all of us, sometimes like a mother, sometimes like a friend, sometimes like a brother.
The Gurus can conclude the class by asking the children to make a greeting card for Swami.
Note
Videos are available on YouTube. Balvikas Gurus are requested to ensure that they get the relevant videos from YouTube well ahead of the class to avoid distraction and undue delay in playing the videos in class.
Further Reading
Twameva Maataa Sloka – Further Reading
Explanation:

When a man dies, his worldly possessions accompany him till the doorstep. His relatives accompany him only till the cremation ground. Only his Sadguru, God accompanies him beyond.
Therefore, our only true friend, relative and treasure is God. The Supreme Sovereign Purusha in whom all elements reside and who is the indweller and inner motivator of all creation can be known and experienced only by winning His grace through surrender.
Understand well His transcendence and immanence & realizing one's deficiencies surrender the ego in order to partake His glory. The mental attitude of the seeker should be 'Twameva Sarvam Mama Deva Deva'- 'Thou alone art all, O, my God of Gods.'
Story of Tulsidas

This is the story of the famous saint poet Tulsidas. He was an orphaned child. He was looked after by his maternal uncle. Whenever asked the uncle always told the child (who was called 'Munna' then) that his mother and father were Ramji(Lord Ram). When Munna grew a little older, he learnt that the parents of a child always lived with the child and not separately. He began to wonder then, how is it that my father and mother that is 'Ramji' live in the temple in pomp and splendor, surrounded by people, leaving me all alone? As Tulsidas was innocent he took his uncle's words to be true.
One day, at night he crept through the window of the temple and reached the statue of Lord Ram. He was hungry and thirsty. So he began to cry and ask for food. Tulsidas had no doubt that Lord Ramji was really his mother & father. So he asked Ramji why he was living alone and not caring for his child. But the statue did not reply.
Tulsidas thought of taking the statue away to his home, as he sincerely believed that a child must live his parents. As he was taking the statue away, the priests heard the noise and woke up. They asked Tulsidas to stop. But he replied that he was taking his mother & father home and the priests had no right to keep his Ramji in temple.
The priests began to chase him and Tulsidas ran as fast as he could. While running in this manner he fell down in a garden of tulsi plants and became unconscious. The merciful Lord was moved by the child's love & sincerity. By Lord's grace, there came a saint Ramanand, who lifted up the child and consoled him. Since he found the boy in Tulsi garden, he named him Tulsidas. From that day, the saint Ramanand told the child that he was sent by Ramji as the father and mother of the boy.
Since then he was known as Tulsidas. The saint Ramanand not only took care of the child but also educated him and cultivated devotion in the child's mind and heart.
Thus the Lord alone is the mother, father, Guru, friend and guide & wealth for us. If only we look to Him, then He will look to us.
[Source : Sri Sathya Sai Balvikas Guru Handbook for Group I, First Year]