Audio
Suprabhatam Verse 10 – Audio
Lyrics
Mangalam Gurudevaaya Mangalam Jnaanadaayine
Mangalam Parthivaasaaya Mangalam Sathya Saayine
Meaning
Thou are the all auspicious Divine Guru,
The Bestower of Wisdom,
The Resident of Parthi.
Salutations to You, O Bhagawan Sri Sathya Sai Baba.
Inner Significance
The advent of the Divine Guru in our lives is auspicious. It brings the Dawn of Wisdom and the end of ignorance.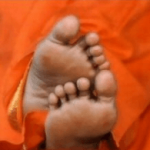 Explanation
Suprabhatam Verse 10 – Explanation
| | |
| --- | --- |
| Mangalam | Auspicious |
| Gurudevaaya | for the divine teacher |
| Jnaanadaayine | for the bestower of wisdom |
| Parthivaasaaya | for the resident of Parthi |
| Sathya Saayine | for Sri Sathya Sai |
Further Reading
Suprabatham Verse 10 – Further Reading
Explanation :
May the Divine Guru be auspicious to us.
May He bestow on us Divine wisdom.
May our Lord who has manifested in Puttaparthi give us this grace.
May Bhagawan Sri Satya Sai Baba bless us.
Oh, Divine Guru gives us the Supreme Intelligence and absolute wisdom that leads to Sat Chit Ananda.
These last lines have a beautiful flow and rhythm and can be taken as a Mantra.
Koti Pranams to the Jyothi Swarup, Lord of Parthi, Sadguru Satya Sai.
Story :
When Baba was only 9 years old, he was daring enough to write audacious limericks and lilting poems against people who did odd things – like keeping Hitler type moustaches and wore western type of clothes in the poor village. He also wrote and sang some rhyming lines about the lazy rich who live luxurious life while their poor servants toiled all day in the Sun. Enquiries were made to find out who the writer was of these naughty but true verses and songs. Satya wrote about the cruelties of the caste system and would not be silenced by anyone.
Seshama Raju was Satya's elder brother. He was worried about the doings of little Satya. In fact, he got more and more convinced that Satya was 'possessed' by some clever spirit from the other world, so he took Satya to Urvakonda where He was kept under his vigilance. But, Satya continued His miracles of curing and teaching.
One day, when Eashwaramma was massaging Satya, she noticed that His left shoulder was badly bruised. When she asked if it was due to carrying pots of water from the far off well, he admitted that he had to walk to and fro 6 times in the morning and evening in order to get water for His brother's family and two other families who appealed for help. Mother Eashwaramma has tears in her eyes, but Satya said 'Amma, I carry the water of life gladly. I have come to do this service'.