Audio
Suprabhatam Verse 2 – Audio
LYRICS
Uttishthottishtha Partheesha
Uttishtha Jagateepatey
Uttishtha Karunaapoorna
Loka Mangala Siddhaye
MEANING
Awake, awake, O Lord of Parthi (Puttaparthi),
Awake, O Lord of the entire world.
Awake, O Compassionate One,
And bestow auspiciousness on the world.
INNER SIGNIFICANCE
The Atma (Soul) is the Lord of the Body. It is beyond birth and death. It is immortal. (Ja – Janma, Gata – Death, Pate – Lord. Hence Jagateepatey is one who transcends birth and death, the Eternal Soul). It is full of love. When we do our duties with the awareness that we are not only the body, but the eternal soul, love flows from us to all.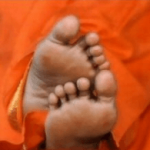 Explanation
Suprabhatam Verse 2 – Explanation
Further Reading
Suprabhatam Verse 2 – Further Reading
Inner Significance :
Uttishtha + Uttishtha Arise, Oh Soul of mind and take charge of my being, and take charge of my being, and as you have transformed the barren snake mound riddled, poor land of Puttaparthi into a prosperous and beautiful as well as peaceful and progressive Prashanti Nilayam, rid my Being of the snakes of Moha, Lobha, Mada, Matsara, Kama and Krodha and flood my whole Being with your compassion so that my existence may become auspicious for my fellow-beings. (Loka, mangala siddhaye).
Jagatipate : Ja – Janma – Gati – Death Pate – Lord.
Who transcends birth and death. Our eternal Soul.
Explanation :
When the Sadguru awakens us, the night of ignorance ends and the dawn of auspiciousness begins. He awakens us by various means such as Darshan, Sparshan and Sambhashana. He takes us through the various paces. By His grace, we start our Sadhana to arouse the Divine consciousness within us.
The Suprabhatam recited every day with the contemplation on the inner significance will surely take us to our Divine Goal – Sai Atma.
'Awakening' in Suprabhatam has a great inner and subtle significance. Just as, in the story, Gurusen showed King Dheeraj what a great treasure was there in his own kingdom, so also our Guru awakens us to the fact that we are the sons of God. Christ said 'The kingdom of God is within you'.
All power, all virtues are really within us, we have to lift the veil of ignorance. Our Guru with His love, compassion and guidance leads us on. He says 'I am God, but you are also God'. Realise it. 'Take one step and I will take hundred towards you'.
We have to battle with the six enemies within us – desire, anger, greed, attachment, pride and jealousy. As we are more and more 'awake' and watchful, we have purer thoughts. Satwic thoughts lead us to deeper layers of the mind and our Sadhana deepens.
The Indweller within us 'awakens' as it were and we are ready instruments to do this work. We undertake service activities for the welfare of the community. We feel oneness with all Gods' creatures the poor, the lowly, the sick and suffering.