Audio
Suprabhatam Verse 7 – Audio
Lyrics
Shrutvaa Tavaadbhuta Charitram Akhanda Keertim
Vyaaptaam Digantara Vishaala Dharaatalesmin
Jignaasu Loka upatishthati Cha aashramesmin
Sri Sathya Sai Bhagawan Tava Suprabhaatam
Meaning
The story of your wonderful and miraculous life have spread Your fame all over the world.
Earnest seekers of Truth have come to this Ashram.
They are waiting for You.
O Sri Sathya Sai Bhagawan, Salutations to You on this auspicious morning.
Inner Significance
The life of Bhagawan Baba is replete with wonders and miracles. They are 'His visiting cards' announcing the joyous news of a Divine Visitation to this planet. The good news has spread to all parts of the world and has attracted seekers of Truth to His Divine Presence.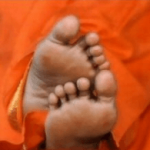 Explanation
 Suprabhatam Verse 7 – Explanation
| | |
| --- | --- |
| Shrutvaa | having heard |
| tava | your |
| adbhuta | wonderful,miraculous |
| charitram | story |
| akhanda | infinite |
| keertim | fame |
| vyaaptaam | has spread |
| digantara | in all directions |
| vishaala | wide |
| dharaatale | surface of the earth |
| asmin | on this |
| jignaasu | desire to know (You) |
| loka | the multitude of people |
| upatishthati | are present |
| aashramesmin | in this aashram |
Further Reading
Suprabatham Verse 7 – Further Reading
Explanation :
The life of Bhagawan Baba is full of miracles. Spiritual seekers who want to know the Truth about God and the world, come from all parts of the world to this Divine presence.
Why does the Divine attract?
This verse reminds us of the sadhana of familiarising ourselves with Baba's life story and the first hand experience of our fellow devotees.
Oh, Resplendent Divine Truth of my Being dawn in my consciousness and let our Glory remain in my memory for ever and inspire me to remain 'Forever Yours'.
In order to transform, reconstruct and reform us the Divine attracts us. By the very presence of the Avataar, we get transformed into better individuals. We start the clearing process in our minds. By hearing the glories of His leelas, our thoughts are elevated. We want to hear more of these inspiring doings that tell us of a great and benign love. We then become His instruments, to do His work and His will. We await His grace.
The meaning of life becomes clear to us as we contemplate more and more. We start to meditate and still our minds, in order to get the vision of the Divine.
When we go to Puttaparthi, we see many foreigners from far off countries, Muslims, Christians, Buddhists, Jews etc. All of them have heard the great leelas of our Lord Sai and His Healing and Awakening Touch. They come to Bharat, the land of spirituality to transform themselves by the Master's grace. There is no distinction of caste, creed or race and He accepts and guides all earnest seekers of Truth.
In this verse, we reach the inner core of our being – the Anandamaya Kosha. There is constant bliss in our minds. We love to hear only the tales of our Lord. Our consciousness travels higher and we become better people. We feel that God or our Guru resides in every one.
Swami's Leela : The Miraculous Cure
In the Summer Course at Brindavan in 1990, a yound lecturer elated a wonderful story.
One day, as a student in Parthi, he was rehearsing a part in the college play 'Jesus Christ'. He was playing the role of a blind boy and was miraculously given his eyesight back by Jesus. When he was saying his part, Swami came into the auditorium to see the rehearsal. He walked in and looked at the boy and said 'Sai came and you got back your eyesight'. Everyone was surprised and wondered what Swami meant, as the play was about Jesus Christ.
A few days later, this boy was doing an experiment in the College Laboratory at Parthi. He mixed 2 chemicals with sulphuric acid by mistake and there was an explosion, which blinded him completely in both eyes. Another boy hearing the noise came up and helped him to wash his eyes, but it was too late. The Doctor was called, but he feared the worst and knew that there was permanent damage to the retina of both eyes. In the evening Swami saw the boy with the bandaged eyes and created vibhuti for him to eat. After 4 days the bandage was removed and he was able to see a little. After a fortnight he could see very well and within a month, his eyes were normal.
Swami then told this boy 'Be careful, next time'. This boy was really worried 'Would there be a next time'. Swami knows best.
Yes, there was another explosion in the Lab. Quite by accident and this boy lost one eye again. The retina was fully damaged and there was no sight at all. This time the Doctor sent his boy to Swami directly. Swami created vibhuti and applied it over his eye. His compassion no bounds and this time the eye healed within a few days and the boy has two absolutely normal eyes now!