Mayurdhwaja's Devotion
Mayurdhwaja's Devotion, Arjuna's Pride Humbled
On one occasion, Arjuna performed the Aswamedha Yaga and let loose the horse. According to the rules of that Aswamedha Yaga, if the horse was let out and someone else captured that horse, the owner had to fight with the person, who had captured the horse; and if lost to the fight, he had to forfeit his kingdom to the victor. The Mayurdhwaja Raja caught the horse and he was fully aware of the code of conduct regarding the horse. Krishna and Arjuna went in search of the horse and they found that the horse was captured by the Mayurdhwaja Raja.
Krishna and Arjuna were contemplating whether to undertake a fight with Mayurdhwaja. Krishna told Arjuna that Mayurdhwaja was no ordinary man and that he was a great devotee of His and it would not be easy for Arjuna to fight him. Arjuna stated that according to the code of conduct, he had to fight with the person, who captured the horse. Then, Krishna commanded Arjuna to fight the battle. Arjuna fought with Mayurdhwaja in many ways, but it was not possible for him to defeat his opponent and even his principal weapon, the Gandiva, was damaged in the process.
As Arjuna was asking Krishna for help, He too, was preparing to fight. Mayurdhwaja was no doubt aware of Krishna's greatness, but the code of conduct required that Mayurdhwaja engage in battle; and so, Mayurdhwaja took out each one of his weapons and sent them at Krishna after uttering the sacred Name of Krishna. The arrows were so hard and so powerful that Krishna started running hither and thither. Arjuna started shouting to Krishna that He should use His sacred chakra, but Krishna replied that against Mayurdhwaja, neither Arjuna's Gandiva, nor Krishna's chakra will have any effect. Arjuna did not take this matter seriously and thought that Krishna was only joking and that Krishna was really not intent on fighting. Arjuna thought that if Mayurdhwaja was really a devotee of Krishna, would he undertake to fight against Krishna? He thought that Mayurdhwaja was not a true devotee.
But, Krishna wanted to demonstrate to Arjuna that Mayurdhwaja was indeed a very ardent devotee. So, Krishna and Arjuna disguised themselves as Brahmins and came to Mayura's house. According to the tradition. It was the duty of the householder to receive the guests and honour them, and in this respect, there was none better than Mayurdhwaja. As soon as Mayurdhwaja saw the two Brahmins coming, he himself threw away the King's garb and wore clothes typical of the Brahmins. He brought water and washed the feet of his guests and honoured the suitably. Mayura requested them to be his guests.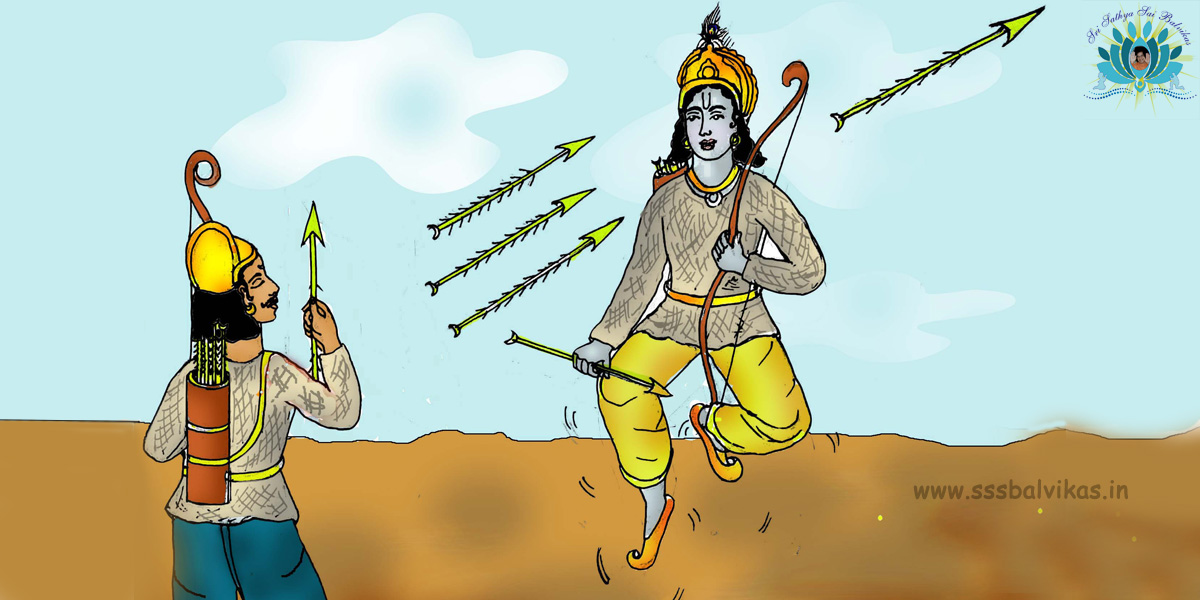 With a view to making Arjuna realise the depth of the Mayur devotion, Krishna had been planning this meeting for quite some time. When Mayura asked Krishna and Arjuna to accept his hospitality and be his guests for food, Krishna replied,"We have not got the time to accept your hospitality. We have come here with a specific problem and require your help. While coming to your house, my son was swallowed by a tiger and at this time, only half is outside and a formless voice said that if the body of my son is to be freed, I will have to get half the body of King Mayurdhwaja as food for the tiger; and then, I was told that my son will be set free." As soon as Mayura heard of this, he saw an opportunity to be of some service to his guest. He knew very well that hospitality comes out of sacrifice and he was prepared to sacrifice his body. He knew very well that the human body was given to him, so that he might be able to help others and he knew that the human body would drop off on some day or the other and so, he was prepared to sacrifice his body to satisfy others.
He called his wife and son and asked them to cut his body into two parts with a sword. His wife and son thought that Maura was preparing to fulfil a sacred task and so, they prepared to cut the body into two halves.
Arjuna and Krishna were watching the situation without batting their eyelids. As they were watching intently, they found that the left eye of Mayura was shedding a tear. Finding that the situation was developing, Krishna wanted to test him further and said, "What is the value of the gift, which is given with sorrow and tears in one's eyes? I do not want such a gift. A gift must be given freely and willingly."
Mayura, who was undisturbed and sitting peacefully with closed eyes, opened his eyes and said that he had no sorrow in giving his body. If at all he had any sorrow, both eyes should shed tears. Why is it that only one eye is shedding tears?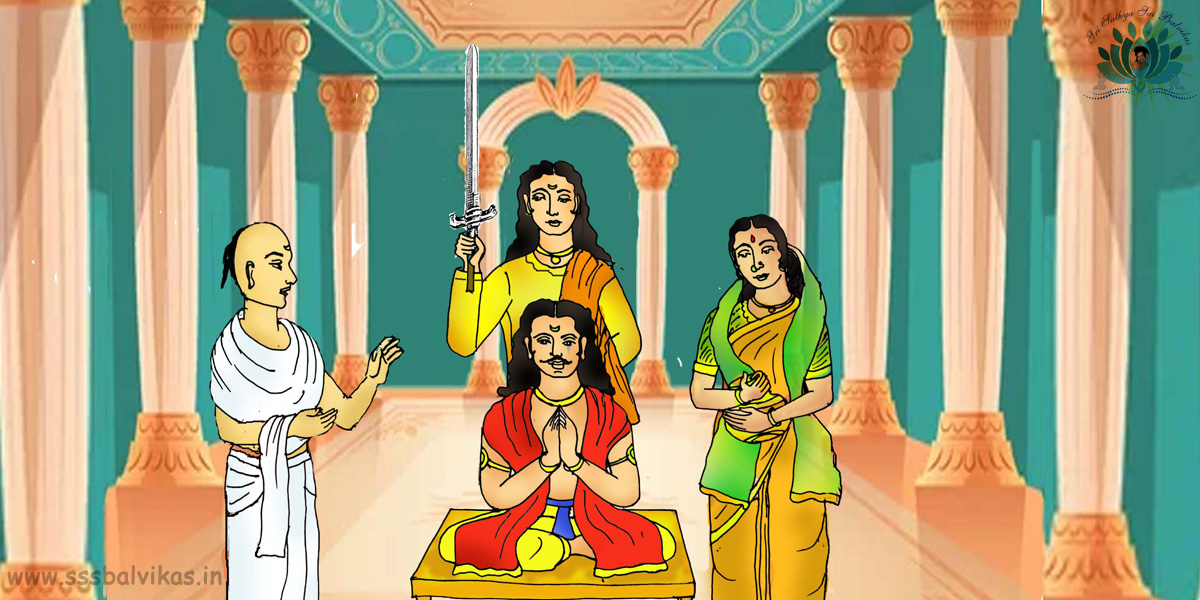 You must consider and understand why tears are coming from only one eye. It is not as if Krishna did not know the truth behind this. He only wanted to show Arjuna the depth of the devotion of Mayura. Mayura replied and said, "Oh Lord, this body is going to be cut into parts and right part is going to be gifted to You for a sacred purpose. The left part is crying and shedding tears, because it will then be thrown away and simply become a feed for the crows. It is crying, because it is going to be thrown away in such an unsacred manner."
As soon as Arjuna listened to these words, he started to repent and realised that this was a lesson taught to him and that there were more ardent devotees of Krishna than himself. The world is full of devotees of varying types. If we see it in the aspect of devotion, Mayura would place at the feet of the Lord everything that he possessed. If we look at it from the point of view of the proper code of conduct of a ruler, Mayura was one, who would observe this fully. He was fully prepared to fight and establish the code of conduct. Mayura was thus one, who was always prepared in any sphere of activity, whether it was worldly, material, or spiritual, and he was ever ready to perform his duty in different spheres. Krishna brought this example to the world and to Arjuna.
Narration: Ms. Sai Sruthi S.V.
[Sri Sathya Sai Balvikas Alumna]