Audio
Radha Radha Bhajan
LYRICS
(Jai) Radha Radha Radha Krishna Radha
Jai Radha Krishna Radha
Radha Radha Radha Krishna Radha
MEANING
Victory to Radha, the greatest devotee among the Gopis and to Lord Krishna, the Lord of Radha.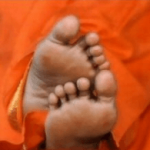 Explanation
Radha Radha – Explanation
| | |
| --- | --- |
| Jai | May victory be to |
| Radha | A great devotee of Lord Krishna |
| Krishna | Krishna means 'He who attracts' (root word 'krish' as in aakarshana, which means 'the power to attract') |
Video
Radha Radha – Video
Activity
Radha Radha – Activity
Radiant Thinking
The guru gives a topic RADHA – KRISHNA to the students by writing it in the centre of the board, and speaking it aloud.
Ask the students to say words related to topics. Eg.Blue, Peacock crown, Flute, Mathura, Gopikas, devotee. Write the words on the board and in their notebooks (please, do not put numbers, or try to organise the words). There is no limit to what and how many words come up!!!
Note : Related words come from the students not from the guru. If the guru doesn't find connection between the topic and a word given by a child, ask him/her "why" he/she feels that word is related instead of saying "no".
Further Reading